Filter By:
Show More Brands

---

Show Fewer Brands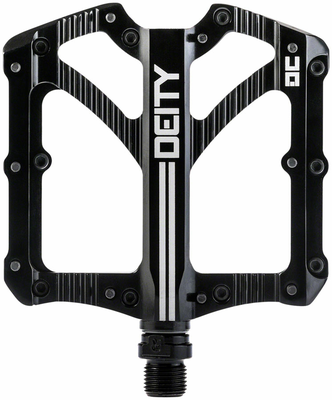 The Bladerunner is a perfect platform pedal for any application, this super minimized design at 11mm thin with a platform large enough for incredible stability. The Bladerunner thrives in the most technically challenging conditions possible. When ground clearance is a priorit you will be hard pressed to find a pedal more suitable for rocky terrain.
The DEFTRAP will revolutionize what you should expect from a nylon composite pedal with it's non-offset symmetrical platform to offer added stability behind the spindle, a true concave pedal profile so your feet sink into it, 10 total pins (8 replaceable cr-mo pins and 2 molded pins), our tried and true sealed bearings and DU bushing system, and top tier nylon and glass fiber composite material to create a pedal that feels unlike anything on the market. With a focus on ride quality, increased foot support, added stability, leading traction, ability to skim over rocks, and even coming in 10 colors-the DEFTRAP will challenge you to rebel against the conventional perception that a value pedal cannot rival the best pedals on the market!
TMAC Signature Tyler McCaul Pedal. With over two years of development features one of the most concave designs on the market. Not only does the TMAC pedal give precise control, the non-offset design provides more contact with the pedal with equal weight distribution in front and back of the pedal spindle. This non-offset design feels like the largest pedal ever made at a mere 110mm x 105mm footprint.